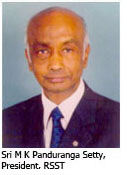 Rashtreeya Vidyalaya (RV) Group of Educational Institutions, a conglomerate of 24 educational institutions run by the Rashtreeya Sikshana Samiti Trust (RSST) consists of philanthropists, businessmen, professionals and academicians. The institutions range from schools to professional colleges offering management, dental, engineering, nursing and teacher education.

RSST has been in the forefront of providing excellence in education for over 6 decades and operates all the institutions with the main objective of offering education with excellence to its students without any bias. There are over 16000 students and 1500 personnel in all its campuses situated at Bangalore, the Silicon Valley of India. The trust consists of the Board headed by its President, Mr. M K Panduranga Setty, a well known industrialist and past director of Rotary International.

Today institutions of Rashtreeya Sikshana Samiti Trust (RSST) institutions are household names in the industrial and corporate circles. The last six decades has seen this Trust grow through multiple institutions - each with its own integrated structure, catering to the growing needs of society.
The name spells it all. It is unique in its approach to imparting education. One of the fastest growing educational institutions in the State of Karnataka, it has presence in virtually every field of academics right from Kindergarten to Post-Graduate and Research institutions. Humanities, Basic Sciences, teacher's Training, Dentistry, Engineering... the institutions cover almost all academic streams. Its reach spans all sections of society - the privileged and the under privileged, the able and the disabled, cutting through gender and age barriers.

Late Sri Sivananda Sarma, a farsighted visionary, founded the first institution of the trust in 1940.